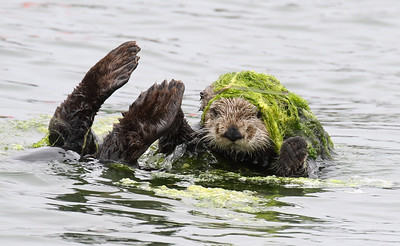 This year was the year of European mammals otter. The program chooses the Vadonleső protected or specially protected, mostly in their communities importance of native mammal species in its seventh year, the year for which you want to draw the whole broad base of both technical communities, and society's attention. He told MTI.
Ebben az évben került először kiválasztásra egy vízhez kötött életmódú ragadozó és vele a vizes élőhelyek védelme. A Vadonleső Program immár hetedik éve választja meg azt a védett vagy fokozottan védett, többnyire közösségű jelentőségű őshonos emlősfajt, amelyre szeretné egész évben ráirányítani mind a szakmai közösség, mind pedig a társadalom széles rétegének figyelmét. Magyarországon szinte minden olyan vizes élőhelyen megtalálják életfeltételeiket, ahol kisebb testű halak, vízi gerinctelenek élnek, és ahol a számukra alkalmas búvó- és szaporodóhelyek is rendelkezésére állnak. Legjelentősebb élőhelyei a természetes tavak, a halastórendszerek és nagyobb patakok, folyók, árterek, mert ezekben egész éven át táplálékhoz jutnak.
A Kárpát-medencében élő vidrák elsősorban éjjel aktívak, zsákmányszerző és területellenőrző napi útjuk során akár 8-10 kilométert is megtehetnek, míg nappal vackukon pihennek. Mint a menyétféle ragadozók általában, a vidra is saját vadászterületet tart fenn, ahol a hímek territóriuma több nőstény vidráéval is átfedhet, de a kölyköt nevelő anyaállatok nem fedik egymás területét. A vidrák fészke természetes hasadékban, maga ásta üregben, vízparti fák gyökerei között, vagy nádasban található.
Sikerként említhető, hogy az élőhelyük és a faj speciális védelmének eredményeképp az 1990-es évek végétől egyre több országban ismét gyarapszik állománya, hazánkban is stabil populációkat alkot. Ennek részben az is az oka, hogy a hazai vizek kevésbé szennyezettek, továbbá a nagy kiterjedésű halastórendszerek kedvezőek a vidrák számára (ahol elsősorban a legyengült, kisebb testű, gazdaságilag értéktelen halakat fogyasztja).
Habitat attachment, on the other hand, makes the otter a vulnerable species, despite its stable population. The accumulation of some heavy metals - lead, cadmium, mercury - is higher in otters struck near rivers in the eastern part of the country than in other parts of the country. And with the increase in road traffic, more and more, usually young, inexperienced otters are performing under the wheels.
The otter has been protected since 1974 and has been highly protected since 1982, with a conservation value of HUF 250,000. It is included in Annex II of the Habitats Directive. and IV. which means that the conservation of the species is also a priority at EU level. Source: National Geographic magazine.
1312 total views, 1 today
1312 total views, 1 today