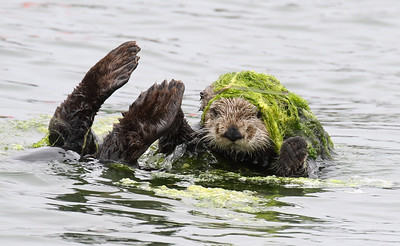 This year was the year of European mammals otter. The program chooses the Vadonleső protected or specially protected, mostly in their communities importance of native mammal species in its seventh year, the year for which you want to draw the whole broad base of both technical communities, and society's attention. He told MTI.
This year, for the first time, a water-bound predator and with it the protection of wetlands was selected. For the seventh year in a row, the Wildlife Program has chosen a protected or highly protected native mammal species of mostly community significance that it wants to draw the attention of both the professional community and the general public to throughout the year. In Hungary, they find their living conditions in almost all wetlands where smaller fish, aquatic invertebrates live, and where suitable hiding and breeding grounds are available. Its most important habitats are natural lakes, fishpond systems and larger streams, rivers, floodplains, because they are fed throughout the year.
Otters living in the Carpathian Basin are mainly active at night, they can travel up to 8-10 kilometers during their daily prey-gathering and area inspection, while they rest during the day. Like weasel predators in general, the otter maintains its own hunting ground, where the territory of the males may overlap with that of several female otters, but the mother animals raising the pup do not cover each other's territory. The nest of otters is found in a natural fissure, in a cavity itself, between the roots of waterfront trees, or in reeds.
It can be mentioned as a success that, as a result of the special protection of their habitat and species, their populations have been growing again in more and more countries since the end of the 1990s, and they are forming stable populations in Hungary as well. This is partly due to the fact that domestic waters are less polluted and large-scale fishpond systems are favorable for otters (where they consume mainly weakened, smaller-bodied, economically worthless fish).
Habitat attachment, on the other hand, makes the otter a vulnerable species, despite its stable population. The accumulation of some heavy metals - lead, cadmium, mercury - is higher in otters struck near rivers in the eastern part of the country than in other parts of the country. And with the increase in road traffic, more and more, usually young, inexperienced otters are performing under the wheels.
The otter has been protected since 1974 and has been highly protected since 1982, with a conservation value of HUF 250,000. It is included in Annex II of the Habitats Directive. and IV. which means that the conservation of the species is also a priority at EU level. Source: National Geographic magazine.
1343 total views, 1 today
1343 total views, 1 today