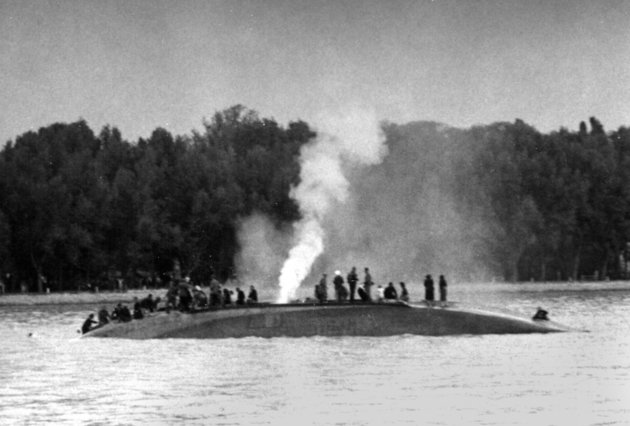 65 years ago, on 30 May 1954, water, mass Hungary worst: the child day capsized on Lake Balaton the Sidekick steamer, 23 people were killed. The accident értesülhetett the public only a few decades later. The victims memorial now stands in Balatonfüred Tagore promenade.
The screw steamer was built in 1918 at the Schlick-Nicholson Machine, Waggon and Shipyard. For a long time it carried passengers between the two banks of the Danube, it sank in the height of Markó Street in the Second World War. A year later, it was highlighted and put back on the market, and in 1950 it was transferred to the ownership of the Balaton Shipping Company.
This was necessary because at the end of the Second World War the retreating Germans blew up the boats on Lake Balaton, and in the early fifties there was nothing for the masses who came to the lake to holiday.
A Sió-csatornán felúsztatott gőzöst két társával együtt a BHV siófoki műhelyében alakították át, ekkor kapta a Pajtás nevet. A tetőt hat méterrel meghosszabbították, a mentőcsónakokat a fedélzet fölött helyezték el, befogadóképességét 150-ről 200 fősre növelték.
During the conversion, even the most basic technical requirements were not taken into account: a larger bolt of the Jókai screw steamer was installed on the Pajtás, so after the start, the stern of the ship rose, its bow sank, and its stability decreased. Due to the wave resistance, the side height was increased, but this also increased the height of the center of gravity, and no technical and stability tests were performed.
The captain of the spectacularly swaying and roaring ship was the problem, but this was not addressed by the authorities during the period of sabotage charges.
The tragedy occurred on May 30, 1954. Early in the morning, the Buddy ran out of the Balatonfüred boat station in bright weather, with six crew and about 180 passengers on board, many of whom celebrated Children's Day with the cruise.
When the Buddy turned sharply to Tihany with a sharp right turn, the season-opening sailing competition was just starting on the other side of the pier. Most of the passengers crashed to the left side of the ship by the time the vehicle tilted sharply. The frightened people were now rushing to the other side, causing the already shaky ship to tip to the right.
A kapitány a dőlést a kormány elfordításával akarta kiegyensúlyozni, de nem járt sikerrel, a Pajtás ismét balra dőlt és süllyedni kezdett. A hullámsírban 22 utas és a fűtő lelte halálát (a legfiatalabb áldozat hétéves, a legidősebb 68 éves volt), a még nagyobb katasztrófát a fűtő akadályozta meg, mert még ki tudta engedni a gőzt a kazánból, így a hajó nem robbant fel.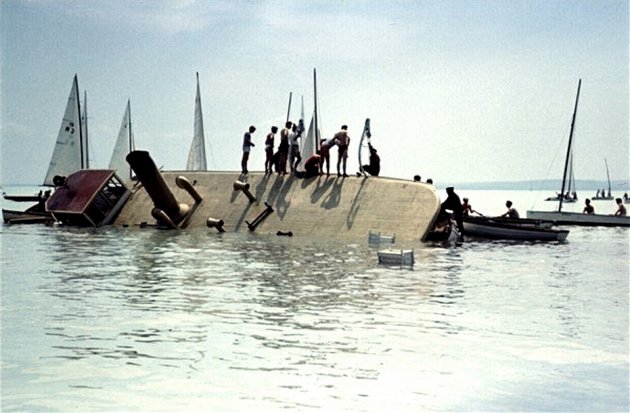 A fenéken megülő Pajtás félig kiállt a vízből, így az utasok zöme felkapaszkodhatott az oldalára, tetejére. A mentést a vitorlásverseny résztvevői gyorsan megkezdték, és a parton állók közül is sokan segítettek.
Perceken belül a helyszínre érkeztek államvédelmisek, de nem a mentéssel foglalkoztak. A mólót lezárták, még a rendőröket sem engedték oda, a közlekedési miniszter is csak nehezen jutott be. A turisták fényképezőgépeiből kihúzkodták a filmet, a szemtanúkat megfenyegették, hogy nem beszélhetnek senkinek arról, amit láttak, még a helyi telefonközpontot is ellenőrzésük alá vonták.
A politikai vezetés csak arra ügyelt, hogy a világ ne szerezzen tudomást a szerencsétlenségről. A balesetről csak egyetlen szűkszavú közlemény jelent meg a Szabad Nép című pártlapban, ez 12 halottról számolt be. Ezt követően Rákosi Mátyás teljes hírzárlatot rendelt el.
A végzetes baleset után azonnal letartóztatták Heisz Pált, a Pajtás kapitányát, nyolc hónapig volt előzetes letartóztatásban. A vízből kihalászott hajónapló tanúsította, hogy nem volt túlterhelve a jármű, így elkerülte a halálbüntetést. Állást sokáig nem kapott, végül a siófoki kikötőben lett felügyelő, a balesetről soha senkinek nem beszélt.
After the tragedy, the Buddy was lifted out of the water, rebuilt into a twin-screw motorboat in 1957, and its name was changed to Siófok. It was sailed to the Danube in 1959, where it continued to serve as Dömsöd, and was withdrawn from circulation in 1987. The monument to the victims of the Pajtás ship, the work of Béla Raffay, was unveiled in 1999 on the Tagore promenade in Balatonfüred.
Source: long-kor store
844 total views, 1 today